Ministry & Fight Club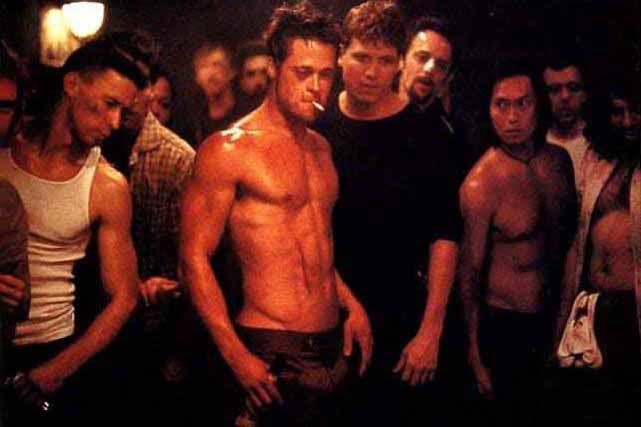 First, read this article about churches taking on fight clubs as ministries
http://www.post-gazette.com/pg/10033/1032813-84.stm
Then, laugh. Because that's what I did.
It reminds me of something Mark Driscoll (I believe it was him, I could be wrong. Google him too though. He's a character) said about people following a Jesus that was a "wimpy vegetarian who wore sandals and drank decaf." I'm guessing he meant that in the pejorative sense. Instead, the solution is to pump up this notion of Jesus who was a MAN'S MAN. A Jesus who watches (and bets on) the Super Bowl, and puts his muddy boots on your couch. A Jesus who doesn't make sandwiches, because we've got women for that.
And they always have the same reasons...
1.
"Because men are the head of the household."
What that has to do with the price of tea in China I'm not sure, but I'm guessing real men don't drink tea. They drink MONSTER ENERGY and double shots. And they put each other in a head lock on Tuesday nights.
2.
"Fighting in real life is like fighting with faith."
Riiiight...because you were born yesterday and don't know about metaphors yet. I'm guessing you think the biblical authors didn't either...
So the author of Hebrews really wants me to run a race! Yes!
3. "Because we want to make Christianity more appealing." It's not a video game. It's a lifestyle. And some folks just ain't going, no matter how glossy you make it. At its core Christianity is about having a faith that can suspend reality...rather,
negotiate
it to create and sustain hope in situations where hope doesn't exist. That's what it means to FIGHT. And if you want a puncher's chance in life, it's gotta happen OUTSIDE the Octagon.
Our churches have got to stop laying in bed so naively with a culture that doesn't care about church. Not to say we avoid culture altogether, but there's got to be some middle ground where we integrate certain cultural practices while critiquing others (I would hate for you to miss a glaring reference and commercial for H. Richard Niebuhr's "Christ and Culture" here). This blind acceptance of whatever's COOL is not making "warriors" for Christ (as the Evangelicals have always hoped) or even good Christians.
Or Christians even.
We're just making folks who fight and go to church. We already got folks who go to church and fight.
I like that my Jesus maintains the sort of peace that can accept whatever God's will is for him (including death). I like a Jesus who won't fight back with instigators. I like a Jesus who does his job regardless of who accepts him or not. I like a Jesus who, instead of telling his disciples (who included women), "I AM BETTER THAN YOU" (It's me baby! Jesus!), he told them "You will do far greater than me." I like a Jesus who
fights
with his heart, his mind, and his will - not with his fists. I like a Jesus who loves.
Even if he wears thong sandals and listens to Pat Matheny records.
What do you think about this?